Today, I finished what history may eventually deem to be one of the most important books of our time.
The last decade has been one of dramatic upheaval filled with times of immense sorrow, fear, panic, anger, and strife. Our lives changed, as a nation and as a world, on September 11th, 2001. On that day, our collective American conscience moved quickly toward deeply rooted terror and sadness. Many books have tried to capture the pain in the aftermath of that day. Some are exemplary, like NETHERLAND by Joesph O'Neill and EXTREMELY LOUD AND INCREDIBLY CLOSE by Jonathan Safran Foer. Although they are not finite in all that they encompass, they manage to capture some of the trauma that our nation experienced in those early years of the twenty-first century. These books manage to bottle up the pieces and give the reader a sudden shock of recognition and remembrance as the pages are turned.
What has failed to be addressed through literature, is what has happened since. Our America has changed immeasurably since that crisp fall day in September. We forget, in our day to day lives, the thousands of men and women who volunteered to fight in honor of our country, who went to war ignited by the memory of the fallen heroes of September 11th. Since the start of the war, our country has lost 6,621 men and women in Iraq and Afghanistan. Hundreds of thousands if not millions of men, women, and children civilians from Iraq and Afghanistan have lost their lives in the fighting. This war, whatever political beliefs you may have, has vastly impacted our world. Soldiers have returned home, but many are unable to shake the things they saw, the things they did, the things they remember.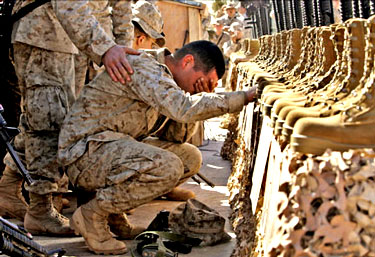 THE YELLOW BIRDS, by Kevin Powers, depicts this struggle in a concise, haunting, and beautifully written book. In its 226 pages, it manages to break your heart time after time, and yet it does so with such grace, such piercing truth that you cannot tear your eyes away. Written from the perspective of Private Bartle, the story winds between the present, when Bartle has returned from Iraq, and the past, when twenty one year old Private Bartle fought alongside eighteen year old Private Murphy in Al Tafar, Iraq. In basic training, Bartle makes a naive pledge to Murphy's mother that he will bring him home safe, and through countless battles, mortar attacks, night missions, and emotional turmoil, Bartle tries to keep that solemn promise.
The author, Kevin Powers, was a Machine Gunner with the U.S. Army in Mosul and Tal Afar, Iraq in 2004 and 2005. His eyes have seen things that we can never imagine, what we shudder to think of. His story is brilliant.
This story is monumental because it helps us to see what they have seen. It helps us as Americans to have a greater ability to perceive the inner conflict that affects many soldiers upon their return. It helps us to understand the mental stress, the physical fatigue, the grief, the confusion, the endless hours of emotional hell that many experience.
Most importantly, this book shows us a truth that we as Americans need to see. When we stand in those airport terminals, watching the men and women in uniform walk toward the people waiting so desperately for them, we see them from our perspective of relative ease. We know from reading newspapers and looking at magazines that their lives in combat were fraught with peril, but we cannot understand what that is like. We, in our cozy lives, cannot possibly understand the day to day fear of loss, fear of pain, fear of death. We cannot understand what it is like to kill or be killed. We cannot understand choosing to kill so you can live. We cannot understand what it is like to leave there and to come home. In THE YELLOW BIRDS, Powers writes:
We filed through a special gate and stood in the cold wash of the artificial lights… A few last words from the officers and senior enlisted men and then we would be released… We stood tightly in formation until the first sergeant barked "Dismissed," but we did not scatter in all directions at once…I  saw confusion in some of the other soldiers' eyes. I even heard a few say, "Well, what now?" It crossed my own mind too… The ghosts of the dead filled the empty seats of every gate that I passed: boys destroyed by mortars and rockets and bullets and IEDs…and I thought that they were young and had girls at home or some dream that they thought would make their lives important. They had been wrong of course. You don't dream when you are dead. I dream. The living dream, though I won't say thanks for that.
It is in this small book of great importance, that we catch a small glimpse. This book is powerful beyond belief. This book may be the most important book of the post 9/11 decade. Kevin Powers is a finalist for the National Book Award, and his novel has been compared to Tom O'Brien's THE THINGS THEY CARRIED and Norman Mailer's THE NAKED AND THE DEAD. THE YELLOW BIRDS is a must read.