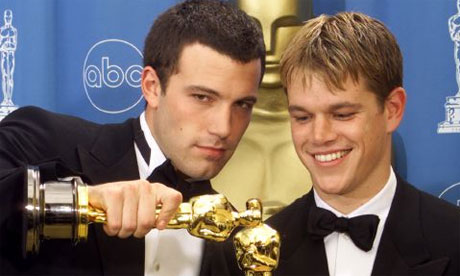 Matt Damon and Ben Affleck, winners of the 1997 Academy Award for Best Writing (Screen Play Written Directly for the Screen) for Good Will Hunting.
Our favorite literary quote from the film:
Sean: Do you have a soul mate?
Will: Define that.
Sean: Someone you can relate to, someone who opens things up for you.
Will: Sure, I got plenty.
Sean: Well, name them.
Will: Shakespeare, Nietzsche, Frost, O'Conner…
Sean: Well that's great. They're all dead.
Will: Not to me, they're not.
Sean: You can't have a lot of dialogue with them.
Will: Not without a heater and some serious smelling salts.